Neck pain is a very common condition and may be caused by sleeping in an awkward position, by prolonged periods sitting at a computer or behind the wheel, poor posture or by awkward movements that strain the neck.
Neck pain can also be caused by age – related wear and tear to the joints of the neck – see our page on treating arthritis – and by stress and anxiety.
Many headaches are also caused by a problem with the joints of the neck and stiffness in the muscles that run up that back and shoulders to the neck. See our page on treating headaches.
Trapped nerves in the neck can cause pain or pins and needles or numbness in the shoulder, arm or hand.
Osteopathy is recognised as an effective treatment for neck pain (JMPT 2009). We use a variety of techniques to gently loosen the spinal joints and relax the muscles of the neck, back and shoulders to give you back freedom of movement and ease pain.
"I have suffered from chronic neck pain and headaches for over 10 years. During that time I consulted several doctors, physiotherapists and acupuncturists but have had no lasting relief. I went to see Sophie at the beginning of the year, feeling thoroughly fed up. Sophie has been the only practitioner that actually went to the root cause of the pain. She is incredibly skilful and genuinely cares. I am so glad that I found her. She has made a massive difference to the quality of my life and I can't thank her enough."
Jessica Gibson.
At the Kingswood and Tadworth Osteopathy Clinic we will treat you as an individual. Everyone is different and we will ensure that your treatment will be chosen according to your specific needs. Factors such as age, fitness, lifestyle and stress levels will all play an important part in determining the techniques chosen to treat you so that you can feel assured that you are getting the best treatment possible for you.
Having identified the factors causing your neck pain we will give you advice on how to address them – from adjusting your posture at work, home and in the car to stretches and exercises you can do to keep your neck healthy and pain free. We also have a team of skilled therapists in-house should wraparound care be required. Should medical investigations be required we will refer you back to your GP or specialist.
In addition, free telephone advice is offered post treatment so you have the peace of mind that professional advice is only a phone call away should you need it.
Call us on 01737 818000 to arrange an appointment.
All osteopaths are regulated as are doctors and nurses and are registered with the General Osteopathic Council. We have to undergo rigorous training on a four or five year full time degree with at least 1000 hours supervised clinical practice. We adhere to a strict code of conduct and practice and undergo annually assessed continuing professional development.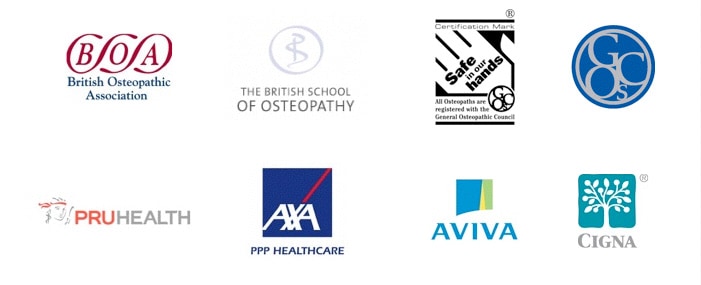 Conditions We Treat:
Generalised aches and pains

Joint pains including hip and knee pain from osteoarthritis as an adjunct to core OA treatments and exercise

Arthritic pain

General, acute & chronic backache, back pain (not arising from injury or accident)

Uncomplicated mechanical neck pain (as opposed to neck pain following injury i.e. whiplash)

Headache arising from the neck (cervicogenic) / migraine prevention

Frozen shoulder/ shoulder and elbow pain/ tennis elbow (lateral epicondylitis) arising from associated musculoskeletal conditions of the back and neck, but not isolated occurrences

Circulatory problems

Cramp

Digestion problems

Joint pains

Lumbago

Sciatica

Muscle spasms

Neuralgia

Fibromyalgia

Inability to relax

Rheumatic pain

Minor sports injuries and tensions