Back pain treatment plans tailored to suit you
Back pain is a very common condition – it is estimated that 80% of the population will suffer from back pain at some stage in their life. Back pain can be caused by a strain to the various supporting structures in the back: the joints, muscles, ligaments and discs. Osteoarthritis or wear and tear in the spine can also cause a lot of pain (
See Arthritis Page
).
The National Institute for Clinical Excellence (NICE) recommend osteopathy as a manual medicine for the treatment of persistent or recurrent low back pain. (May 2009).
Through a highly developed sense of touch called palpation, we can identify and treat areas of restriction within the spine and the surrounding connective tissues using mobilising and massage techniques. Research has found that these techniques are more effective than painkillers and physiotherapy (Gurry et al 2004).
In addition, free telephone advice outside of your treatment session is offered so you have can the peace of mind that help is at hand when you need it.
Call us on 01737 818000 to arrange an appointment.
"I have been seeing Sophie as a patient for a number of years now, in that time she has treated me for back and shoulder problems that were quite severe at times.
Sophie has always managed to fix my problems through her expert knowledge, consistent and thorough treatments. Sophie is reliable, extremely knowledgeable and very intelligent in her field.
On a personal note Sophie is a very friendly person who always finds the time to help with your problems whilst offering great advice even when you are not on the treatment table with recommendations on how to cope, manage and help cure your problem. I can't recommend Sophie enough."
Paul Denny
During your initial consultation at Kingswood & Tadworth Osteopathic Clinic which will last 45 minutes to an hour, we will talk to you about your symptoms and take a thorough case history which will include questions about your general health, medications you may be taking, and any previous accidents, illnesses and tests you may have had. We will also ask you questions about your daily activities as these and how you carry them out may be affecting how your joints are wearing. You will then be asked to undress down to your underwear or you may wear loose comfortable clothing if you prefer. You will be asked to carry out some simple movements so that we can assess which joints and muscles are restricted and then we will examine you on the couch by feeling for tensions within the affected joints, surrounding tissues and adjacent areas.
We will talk to you about our findings and develop an individual treatment plan with you which will include advice on exercises, posture, diet and lifestyle, and simple adjustments you can make to your everyday way of doing things which may help ease the stresses within your body. If we feel that further investigation is needed, such as X-Rays, scans or blood tests, we will refer you back to GP or onto the relevant specialist with a report if appropriate.
If you are suffering from back pain and are concerned or know you have osteoarthritis, then call us on 01737 818000 to book an appointment or have a chat and see how we can help.
"I have suffered with lower back problems and on one occasion had to go to A&E as the pain was so bad. I spoke to Sophie and she was kindly able to fit me in the next day. I was in terrible pain and could barely walk when I arrived but within 24 hours I had much better movement in my back and far less pain. By the following morning I felt almost fully fit. Sophie then gave me advice on an MRI scan and stretching to help in the future. I can't thank her enough for all her help."
David Callaway
All osteopaths are regulated as are doctors and nurses and are registered with the General Osteopathic Council. We have to undergo rigorous training on a four or five year full time degree with at least 1000 hours supervised clinical practice. We adhere to a strict code of conduct and practice and undergo annually assessed continuing professional development.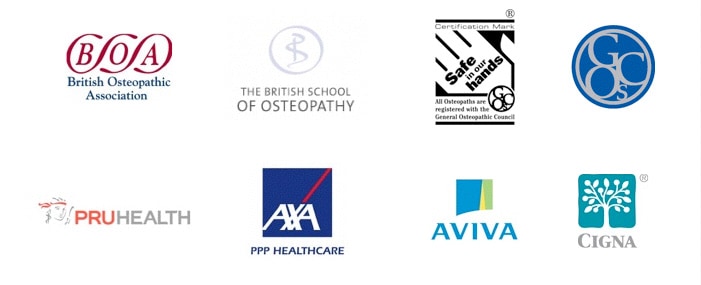 Conditions We Treat:
Generalised aches and pains

Joint pains including hip and knee pain from osteoarthritis as an adjunct to core OA treatments and exercise

Arthritic pain

General, acute & chronic backache, back pain (not arising from injury or accident)

Uncomplicated mechanical neck pain (as opposed to neck pain following injury i.e. whiplash)

Headache arising from the neck (cervicogenic) / migraine prevention

Frozen shoulder/ shoulder and elbow pain/ tennis elbow (lateral epicondylitis) arising from associated musculoskeletal conditions of the back and neck, but not isolated occurrences

Circulatory problems

Cramp

Digestion problems

Joint pains

Lumbago

Sciatica

Muscle spasms

Neuralgia

Fibromyalgia

Inability to relax

Rheumatic pain

Minor sports injuries and tensions