The shoulder is a very complex area with a number of different structures that can become injured and cause pain. Common problems arising here include:
Rotator cuff problems – this is experienced as pain in the shoulder or upper arm and may arise as a result of overuse and/or wear and tear. You may experience pain when lying on that side, lifting your arm and using your shoulder muscles.
Osteoarthritis (see arthritis page) – stiffness, pain and swelling within the joint.
Acromio-clavicular joint – pain is commonly experienced here at the junction between the collarbone and the shoulder blade; particularly following a fall.
Frozen shoulder – this is a progressive stiffening of the shoulder. Arm movement becomes very limited and painful.
Referred pain from the neck or upper back – very often the site of pain may actually be coming from stiff joints and muscles in your neck and/or upper back and referring out into the shoulder.
Tennis and golfer's elbow
– pain at the inside of the elbow (golfer's elbow) and the outside (tennis elbow) is caused by an overuse of the muscles attaching to those points. This may be down to incorrect technique during sport or it may be to do with the way you carry out day to day activities. Incorrect functioning of the shoulder joint may also cause problems here.
Wrist and hand pain – this may be caused by arthritis (see arthritis page) or there may be compression within the joints from overuse.
We will take a detailed and thorough case history and examination in order to find out the cause of your symptoms, taking into account factors such as lifestyle, posture, any injuries you may have sustained, sports and activities you may be involved in and the kind of work you do. We will then tailor a treatment plan specifically to your needs together with any recommendations for exercises, stretches and small changes to the way you do things that will really benefit you. Using a series of gentle mobilising techniques, massage and stretching we can help restore good movement and ease your pain. If we feel further investigations are needed we will refer you back to your GP or specialist.
"I visited Sophie for osteopathic treatment for my injured shoulders. She did a great job in relieving the pain and improving the movement. The clinic is friendly, professional and reasonably priced. I would highly recommend her."
Scott Wootton
During your initial consultation at Kingswood & Tadworth Osteopathic Clinic which will last 45 minutes to an hour, we will talk to you about your symptoms and take a thorough case history which will include questions about your general health, medications you may be taking, and any previous accidents, illnesses and tests you may have had. We will also ask you questions about your daily activities as these and how you carry them out may be affecting how your joints are wearing. You will then be asked to undress down to your underwear or you may wear loose comfortable clothing if you prefer. You will be asked to carry out some simple movements so that we can assess which joints and muscles are restricted and then we will examine you on the couch by feeling for tensions within the affected joints, surrounding tissues and adjacent areas.
We will talk to you about our findings and develop an individual treatment plan with you which will include advice on exercises, posture, diet and lifestyle, and simple adjustments you can make to your everyday way of doing things which may help ease the stresses within your body. If we feel that further investigation is needed, such as X-Rays, scans or blood tests, we will refer you back to GP or onto the relevant specialist with a report if appropriate.
If you are suffering from shoulder and/or arm pain and are concerned or know you have osteoarthritis, then call us on 01737 818000 to book an appointment or have a chat and see how we can help.
All osteopaths are regulated as are doctors and nurses and are registered with the General Osteopathic Council. We have to undergo rigorous training on a four or five year full time degree with at least 1000 hours supervised clinical practice. We adhere to a strict code of conduct and practice and undergo annually assessed continuing professional development.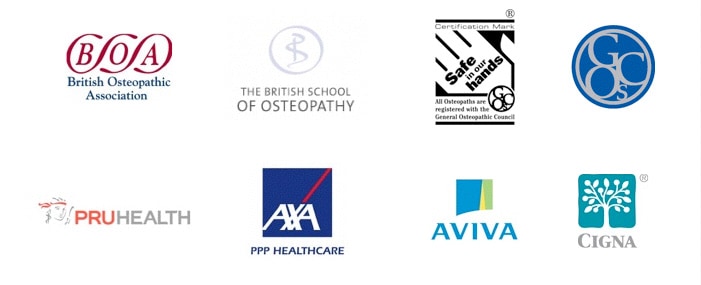 Conditions We Treat:
Generalised aches and pains

Joint pains including hip and knee pain from osteoarthritis as an adjunct to core OA treatments and exercise

Arthritic pain

General, acute & chronic backache, back pain (not arising from injury or accident)

Uncomplicated mechanical neck pain (as opposed to neck pain following injury i.e. whiplash)

Headache arising from the neck (cervicogenic) / migraine prevention

Frozen shoulder/ shoulder and elbow pain/ tennis elbow (lateral epicondylitis) arising from associated musculoskeletal conditions of the back and neck, but not isolated occurrences

Circulatory problems

Cramp

Digestion problems

Joint pains

Lumbago

Sciatica

Muscle spasms

Neuralgia

Fibromyalgia

Inability to relax

Rheumatic pain

Minor sports injuries and tensions